No Summer Vacation for "Dream It! Do It!"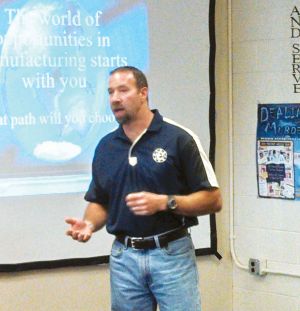 School may be out for the summer, but the "Dream It! Do It!" program is still going strong, educating teachers on the many advantages and career opportunities available in manufacturing in WNY.  The program spans the five counties of WNY and is led by Todd Tranum of the Manufacturing Association of the Southern Tier together with the Buffalo Niagara Partnership and hundreds of manufacturers like Napoleon Engineering in Olean.  "Dream It! Do It!" was created by the National Association of Manufacturers to educate teachers and kids about manufacturing technology, equipment and operations, as well as key facts including: the average manufacturing worker makes 28% more than the average worker in all other industries; and over 60% of all American private-sector innovation is happening in manufacturing companies.
Click here to read more about "Connecting with Youth to Manufacture the Future" in the Olean Times Herald.
Photo: Kelsey Boudin/Olean Times Herald